Casual dating is becoming the norm today, and that's because of the many online dating sites. These dating sites make finding a casual date easier compared before.
While there is nothing wrong with finding casual date, you need to be cautious about who you meet online. You need to make sure that you're going to choose an online dating site that caters not only on finding you a date but as well as ensuring your safety. One of the many online dating sites where you can find a date is UberHorny.
Better Alternatives to UberHorny
In terms of hookup sites, there are much better alternatives than UberHorny. These alternative sites have better protection against scammers, larger group of members to match with, and better features. See our recommendations below and try them out:
---
UberHorny Dating Site Review
UberHorny, as the name says, is specifically for people who are looking for a casual date or a hookup. This dating site will help you find a date that's just within the proximity of your area. It caters to people who are looking for a casual date and eventually hook up with at the end of the date.
One of the best things about UberHorny is that you no longer have to worry about people seeing your profile. The reason behind this is because their homepage is where the registration form is. You won't be able to see any members unless you sign up.
---
Signing Up On UberHorny
When it comes to signing up on UberHorny, it's free and easy. All you have to do is to choose your gender and select whether you are signing up alone or with a partner. You also need to check whether you are looking for a man or a woman. During the signing up process, you also need to include other necessary details, including email address and your location. Typically, this process will only take you a couple of minutes.
---
Completing Your Profile
The next thing that you need to do is to start creating your profile. It is better to complete every required information, as this will help other members to get to know you. You can also write a little something about yourself, but make sure to leave a little mystery about yourself. This will surely keep members interested in you.
Upload a photo of yourself and make sure that it's a recent one. Your picture should also be a solo shot because it can be confusing to know which one you are in a group photo.
---
Cost Of Membership On UberHorny
There are two trial plans when it comes to UberHorny. Of course, you can sign up for free, but there are certain features that you won't be able to use unless you upgrade your membership. Here are the cost of memberships:
Two Day Trial
The two-day trial costs $0.95, and this will already let you experience all of the features on the site.
Seven Day Trial
The seven-day trial costs $9.95 and is the most popular membership because members get to use the features for one whole week. This will also help you find a hookup and message them so you can get to know them.
One Month Membership
The one-month membership costs $34.95, which is quite costly but will let you use all of the features on UberHorny. It will also let you send unlimited messages to members anytime you, please.
Six Month Membership
The six-month membership costs $11.65, which can do the same as above. But this membership is longer and definitely way cheaper than the one-month membership.
One Year Membership
One year membership costs $6.67, which is a great value and they will also give you another six months free, for a total of 18 months of membership instead of just 12. This membership will let you use live cams and videos. There will also be other features that will be unlocked with a one-year membership.
---
Special Features On UberHorny
Advanced Search Function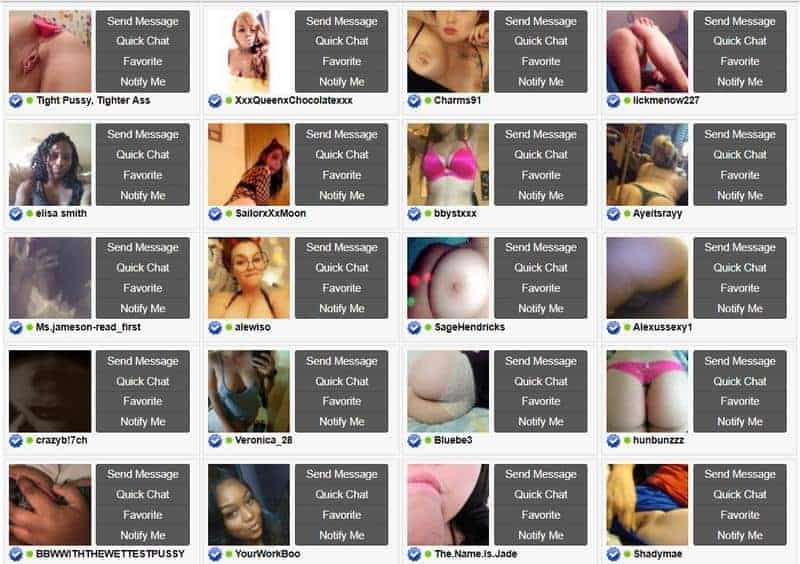 The advanced search function is one of the best features of UberHorny. The reason behind this is because you can narrow down the options by compatibility, appearance, interest, income, profession, sexual preference, gender, and age. Once you're done searching for members, you will know when they are online with the Online Now that appears next to a member's name.
Popular Section
The popular section is where you will see the members who are always viewed by other members. You can check out these members and choose on who you want to exchange messages with.
New Faces
The new faces are where you will see the latest members who just joined the site. You can say hi and introduce yourself, so you can make them feel welcome.
Live Cams And Video Chats
Another useful feature that UberHorny has is that they let members use live cams and video chats. This will help you know if you are chatting with the person who she or he says she or he is. If you are going to use live cams, then you will have to pay for every minute that you are using it. Don't worry about anything because this is definitely worth it.
---
Other Features On UberHorny
User Ranking – This is where you can rank the members based on their looks.
Viewing – This is where you can see the members who have viewed your profile.
Favorite List – This is where you can add the member as your favorite, so you can connect with that member easily.
Blackbook – This is where you can create a list of the fuck buddies that you are interested in hookup with.
Mobile App – The mobile app is where you can download and install it on your mobile. This is the best way to communicate with members anywhere you are.
Discreet Search – This is where you can browse profiles without the member knowing it.
---
Safety And Security
UberHorny has excellent customer support, which means that you can easily contact them if you have concerns regarding the site or the other members. Their customer support is 24/7, which means that you can contact them anytime you want. You can also report and block members who are offensive. The site will take care of that for you and will ban the person if found guilty. The reason behind this is because UberHorny takes shady consumers and fraudulent users. In fact, once you reported a member, it will be taken care of within 24 hours or even less.