It may be no surprise that Thailand has numerous elaborate online dating scams, most of which specifically target foreigners.
Thai scammers are typically very bold, and unlike other countries, they will not hesitate to call, video chat or even meet you in person. Throughout this article, you will learn more about their favorite scams and what you can look for to prevent this from happening to you.
Beware, though; some of these thai dating scams actually end up offline. They are pretty dedicated, to say the least.
Could you be a victim of a Thai Dating Scam? Click here to find out…
Thai Dating Scams: Common Formats
Marriage Scams
They don't hide their identity
The Thai marriage scam is in no way to death do us part. This scam begins with a woman based out of Thailand connecting with a man in a foreign country, such as the United States. While online dating scams usually consist of the scammer hiding their identity from the victim, this is in no way the case with this scam.
Falling in love quickly
Once they have started communication, whether it be on some sort of dating website or social media platform, the scammer will quickly begin telling the victim how much she loves him after a very short amount of time. This will eventually lead to her asking for marriage, typically within a month, which consists of either flying to each other and following through with it.
Green Card
It doesn't stop there, unfortunately. When they are both married, the scammer will begin the process of getting her green card. Once this process is over, she will divorce her victim and move on with her life, leaving him in a standstill with all of that time and money wasted.
Could you be a victim of a Thai Dating Scam? Click here to find out…
Girlfriend Scams
Sugar Daddy Shopping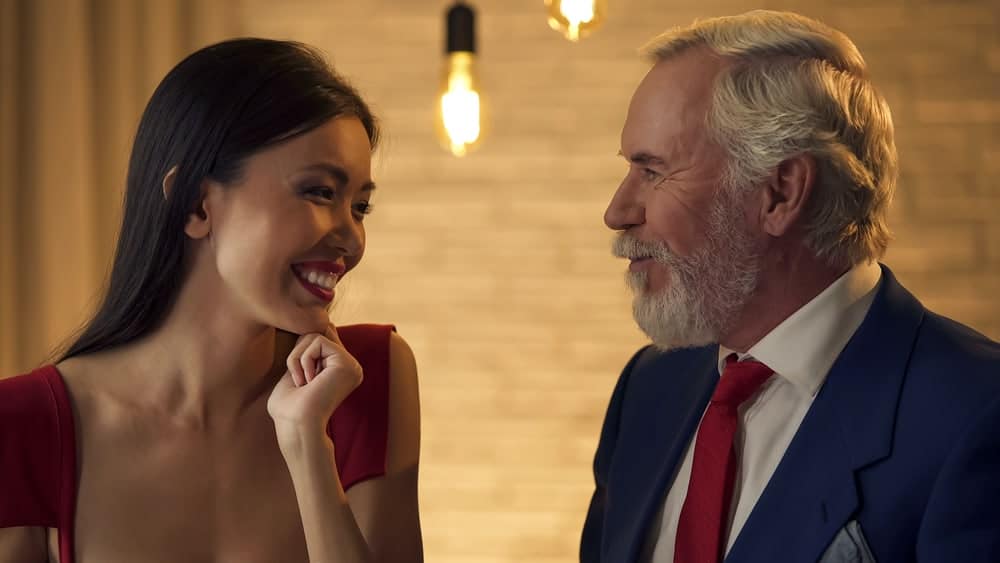 This scam is definitely a dirty one as well. The shopping scam often starts with a woman looking for some sort of sugar daddy. Sure, having a sugar daddy is not necessarily a bad thing in itself, as long as both involved acknowledge and agree to the terms.
Flying To Thailand
However, agreement is found nowhere with this scam because the victim, usually male, knows nothing about it. It begins with the woman contacting the victim over a dating website or social media platform. Once they have both built enough mutual rapport and begin falling in love, which the scammer will try to quicken the process as far as possible, she will ask him to fly out to Thailand to stay with her for a bit.
A Walking Debit Card
In love, he agrees to it and ends up flying to Thailand. Little does he know, he is now a walking debit card for this woman until she gets tired of him, if ever. This is a scam because the victim thinks he is dating someone that has true feelings for him, while she knows that he is nothing more than a free purse to her.
Could you be a victim of a Thai Dating Scam? Click here to find out…
Ladyboy Scams
Appearing As The Opposite Gender
While we really can't figure out why they do this, this is definitely a very popular scam within Thailand. Sometimes Thai males attempt to transition or appear as the opposite gender — female, then begin looking for a boyfriend. This scam begins when the ladyboy creates a dating profile appearing as a woman, all without mentioning anything about a transition.
Check Their Height
More often than not, these ladyboys have exceptional make-up and style skills, making it difficult to determine whether or not this person is the sex that they say they are. However, one way you could spot a ladyboy is by checking both the height of this person and looking for an Adam's apple.
Look For An Adams Apple
The average Thai woman is around 160 cm, so people who are much taller than this may be of the opposite gender; and of course, if the woman claims to be a woman, yet has a more prominent Adam's apple, then they are very likely not being honest with you.
---
Preventing Thai Dating Scams
Social Media
When trying to determine whether or not you are talking to a Thailand scammer or an honest Thai citizen, checking their social media profiles can lead to lots of valuable information. Since they usually don't mind giving their name, this should be an easy process.
First, check their friends list, make sure the number is not too low, like ten or so. Next, go through their profile photos. Check to see if they have any previous relationships and with who; if it is an American, then this is probably a scam. Americans aren't normally widely available for choosing in Thailand.
Video Chat
Before you fly out to meet this person, which we absolutely do not recommend unless you have done your research and are absolutely sure that they are honest, video call this person and ask questions.
Asking questions such as where they live, their previous relationships or if they have done this before can all expose someone, especially if they are not prepared to answer quickly.
Career
Ask them about their career. Truth be told, the income of Thailand citizens is usually much lower than most Americans, so poverty may not be unusual. Asking them about their career could be a dead giveaway that they are only searching for a handout.
If they tell you that they do not have a job in an area in which jobs are not scarce, this is not a good sign; especially if they have kids.
Could you be a victim of a Thai Dating Scam? Click here to find out…
Websites to be careful with
Thai Friendly, Date in Asia and Thai Cupid are three very popular online dating websites that scammers love to use to find victims online in Thailand. Although not all of the users on those websites are scammers, it is important to use caution when using them.
Be aware of anyone asking for money, your personal information, or even quickly dropping love quotes before you even get the chance to know this person.
If they ask you to send them money so that they can visit you, or vice versa for you to come visit them, especially after only a week or two, it is best to block this person. This almost always leads to some sort of scam.
Could You Be A Victim Of A Thai Dating Scam
?! 
It is important that you perform a quick background check on who you are actually speaking to on the internet (you can do that here). The common questions that spring to mind are:
Are they using fake identities?
Am I really speaking to a real person from the USA?
To help the users of this site we have partnered with BeenVerified so you can check exactly that. This checking service reveals everything about this would be romance scammer and if they are a real person!
Helpful Information Available on BeenVerified:
Arrest Records (Please check this!)
Photos  (Helps check if the same photos are used for multiple profiles with different names)
Email Addresses
Phone Numbers
Social Profiles (IMPORTANT – Do they have a real social profile or multiple)
Home Addresses
Relatives & Associates
Sex Offenders Register (Be safe who you are meeting!)
And More…
If you have the slightest doubt about who you are speaking to… Please use this service!
---
Thai D ting Scam Story
In this video a man meets with a Thailand scammer to see what this scam is like. In the video the scammer explains how she has three boyfriends, and that each of them do not know that she has more than one boyfriend. According to the scammer, she makes around three thousand U.S dollars each month, which is a lot in Thailand.
She also explains how she believes it is morally acceptable and that she dates them only because they buy her gifts and give her money. This is a perfect example of a Thailand scam. Though different from many other popular scams scouring the internet, this scam is no joke. It can lead to victims going broke and losing their livelihood, not to mention the time wasted and heartbreak endured. Always pay attention to people's intentions and never send money to anyone, especially when they live outside of the country.