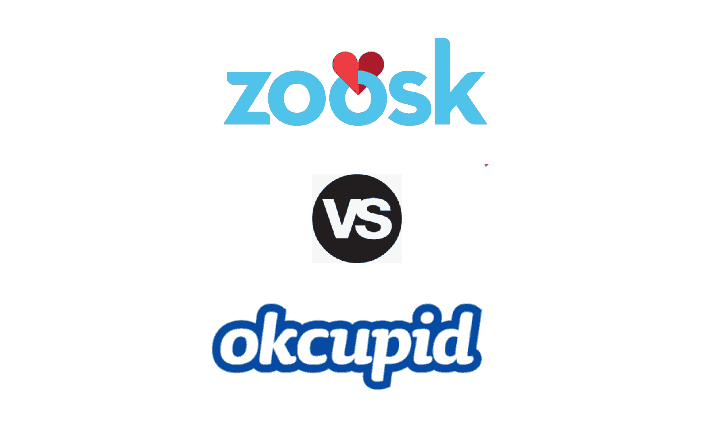 There are as many dating websites, apps, and services out there as there is qualifying suitors, it seems, so how are you supposed to know which platform to trust with your time and money?
While it's true the options feel endless, it's pretty easy to spot the best sites, and this guide will break down two of the leading names in the market, Zoosk vs OkCupid.
Zoosk vs OkCupid: Overall Review
The main differences between the two relate to their social media design and the ability to connect with other users on the platform. Zoosk was created to heavily imitate the way Facebook does things and focuses on the interactive elements of dating apps.
OkCupid on the other hand keeps things a little more simple and private, geared more to the individual than the group. Both of these approaches are great, and it's heavily reliant on the preference of the user to discern which site is better for them.
Zoosk Rating: 8/10
Originally, Zoosk was an app on Facebook before it became its own separate website in 2007. Now that it has mobile options, the member count has increased and Zoosk gets about 25 million visits in a months time. You sign up with the platform using an existing social media account, such as Facebook, and you're instantly ready to get started matching with others. Tons of smart features and fun options are available on the network to get connected with the members.
OkCupid Rating: 6.5/10
Since OkCupid was created in 2004, it's a little older than Zoosk, despite having less modern features. This platform is very focused on the specifics of match compatibility more, with in-depth questionnaires when you register and lots of profile customization options. Things on this network are a little more low-grade, with less features and options than what Zoosk offers.
Winner: Zoosk
There is just more to do on Zoosk when it comes to features. The sign-up process is easier, the aesthetics are a bit cleaner, and the group mindset is really nice.
---
Zoosk vs OkCupid: Pricing
No matter how amazing a website or app is, we have to be able to afford it and know we're getting the best value out there. Most dating apps require some form of payment for it's full features, and OkCupid and Zoosk are no different.
Zoosk Free & Premium Options
Both paid and free memberships are offered on Zoosk's networking platform. Most of Zoosk's interactive features are accessible with a free account, but you're limited on how much you can use them.
Free membership: Your profile is visible to others and you can receive messages, look at potential matches, and access a couple of the features to observe how the site works. You're not able to answer chat messages and your amount of "like" is limited, and Zoosk won't use it's SmartPick algorithm to suggest potential suitors.
Paid membership: All limitations are lifted from your account. You can send or receive likes, messages, and earn coins for more in-app purchases. Plus, you can see the users who viewed your profile so you can have an idea of who is interested in you, and track your matches. Everything on the app becomes available with a membership.
Since the majority of the app is locked with a free account, you're going to want to pay for a membership if you decide to sign-up for Zoosk. The pricing is pretty low, with reasonable amounts and a few different payment plan options.
One month: $29.95
Three months: $19.89/per month
One year: $12.49/per month
OkCupid Free & Premium Options
Unlike Zoosk's mostly free version that includes limited messaging features, OkCupid allows you to do all of the important parts of using a dating app without any charge at all. It's an option to upgrade, and helps out, but it's far from a requirement like Zoosk makes it to be.
Free membership: Send likes messages, and see your matches without limitation. You can customize your profile however you want, upload images, and get access to basic search filters when looking at the feed of members.
Paid membership: Your inbox capacity is upgraded from 300 conversations to 5,000 and you get an ad-free experience. Plus, you can see who views your profile and likes it, as well as when they'd read your message. There are some other little features included like improve search filters and an automatic message filter that weeds out requests that don't match your criteria.
Is paying for the A-List subscription worth it? If you like OkCupid, then it really does benefit your time spent online. OkCupid will do the work for you and make your whole experience easier, which leaves you more time for the dating part you enjoy.
One month: $19.95
Three months: $14.95/per month
One year: $9.95/per month
Winner: OkCupid
Obviously free is better, and even if you do choose to pay, OkCupid is way cheaper than Zoosk. Sure, the features aren't as smart and in-depth as what Zoosk offers, but it's affordable and gets the same results.
---
Zoosk vs OkCupid: Demographics
Both websites allow free sign-up, so judging the platforms activity based purely on member count isn't always reliable. You want to be sure that the activity on your chosen platform matches what you want, not just what the general population needs.
Zoosk Members
With over 40 million members registered on the site, Zoosk has one of the highest activity levels of dating apps. The LGBTQ community is present and the app is supported in 80 countries and has a wide range of ethnicities, languages, and backgrounds. Specific demographics on Zoosk include:
24-27 average age range
48% male, 52% female
25 languages are offered with the service
A large range of ethnicities and lifestyles are found on the app
More likely to have members over the age of 50 than OkCupid
OkCupid Members
Traffic is heavier on OkCupid, probably because of their more extensive free services. Over 55 million members are registered on OkCupid, with over 1.3 million of those active daily. The site just keeps growing in numbers, too. It's extremely inclusive to those with specific identities and offers more options for sexual and gender orientation than any other site, so there is a stronger presence of the LGBTQ community on OkCupid. Let's look at demographics:
25-35 is the biggest age range
59.3% of members are from America
47% of the users are female
Members are more sex oriented
Higher amount of non-heterosexual identifying members
Winner: It's a tie!
Since both memberbases for the sites are pretty similar and diverse and pretty close when it comes to activity, it's hard to say which one has the best numbers compared to the other.
---
Zoosk vs OkCupid: Who is better at being Scam-Free?
You're bound to find bots, scammers, fakes, and catfish on any dating app but this seems to be a bigger probably with OkCupid. Since anyone can use the site for free, it's easier for these scam accounts to fall through the cracks. On the bright side, it's easy to spot a fake on OkCupid since their accounts will be bare-boned.
Zoosk has less reported problems with scammers and fake accounts. Plus, OkCupid has had some security problems in the past, with members reporting their accounts got hacked. It seems that Zoosk has the more reliable member base.
---
Zoosk vs OkCupid: Features Comparison
What a dating app can offer outside of just their messaging and member base is just as important as these factors. The features you want to pay for can make or break your decision about which to sign up for, so let's dive in.
Inside Zoosk
It's pretty clear that Zoosk likes to stay ahead of the game when it comes to introducing innovative new features and ways to interact. It's modeled after large-scale social media companies, so you can have several ways to update and share your life outside of just instant messages.
Features you can get the most use out of on Zoosk include:
The Singles Carousel. A fun way to flip through suggested matches and singles in your criteria by flipping through a revolving line-up.
Coins. You can refer friends, win contests, and cash in on bonuses to earn coins that will go towards your account boosts. You can buy power-ups for your visibility with these coins.
Save for later. Selecting "maybe" on your matches in the carousel will cycle these members around later so you have time to think about connecting with them.
Wink at your crushes. Instead of just "liking" someone, send them a wink! It's cute and playful.
SmartPick. By monitoring your activity, Zoosk will constantly improve your matches with their SmartPick algorithm that updates based on your behavior on the app.
Inside OkCupid
Once you're signed up on OkCupid, it has less menu options and things to explore, and a lot of your feature options are based on your own personal choices than interacting with the app. It's been designed to really know it's users on a deep level, and translate that information easily onto your profile with intelligent match scores.
Features you can get the most use out of on OkCupid include:
Questionnaires. As you use the app, OkCupid will ask you deep, meaningful questions on several areas of your life. This includes sex, religion, ethics, and interests. Your answers are saved and you can search for users with similar answers.
Cute badges. Depending on what you answer to the questions, OkCupid awards badges that appear on your profile. Some of these are like easter eggs, such as the Game of Thrones badge for fans of the show. Others are useful, like "sex-oriented", or "philosophical".
Enemy percentage. Like most dating sites, OkCupid shows you the compatibility percentage on your matches… but it goes a step further and shows you the enemy percentage, too!
DoubleTake. Using this search screen gives you a better way to connect on a deeper level. It isn't a grid, but instead, a detailed view of specific profiles one at a time. If you decide to match with the profile, you'll be moved to the other users screen.
Auto-message filtering. If you pay for A-List, OkCupid filters the messages from accounts that don't have good match scores for you.
Winner: Zoosk
Zoosk has a lot of cool, fun features, but they aren't as intelligent or useful as OkCupid's focus on matches. Not everyone is interesting in answering dozens of personal questions, so a lot of people skip the questionnaires on the platform, which can affect your match credibility. Thanks to this, half of what OkCupid offers as features aren't as useful as they could be.
---
Zoosk vs OkCupid: Navigation & Experience
Both of the websites and mobile apps are sleek, gorgeous, and easy to navigate. The design is cutting edge on both platforms, and the usability is excellent even for technological beginners. Each website works a little differently, but no major issues come from either platform.
Winner: A tie!
---
Zoosk vs OkCupid: Dating Success
This heavily relies on your priorities as a member. Zoosk has a long history of successful long-term relationships and tends to have a much more serious user base that is geared towards making deep connections. Most members say they're looking for a relationship of at least 6 months.
OkCupid is more casual. Thanks to the in-depth personality analysis feature, you can see on the profile clearly if the user you're looking at is wanting a relationship or something casual, but most users have a focus on short-term dating or hooking up. Of course, some great long-term relationships have come from OkCupid, too, but not as many as Zoosk.
Winner: Zoosk
If you want a partner on a serious level and not just for some fun sleepovers, Zoosk has the reliability and consistency you need.
---
Verdict: Which is Best? Zoosk!
You get what you pay for – literally. Zoosk may require a little more from your wallet than OkCupid, but it keeps things focused on you, your desires, and your success at finding a partner. OkCupid is great, really, and the two come pretty close but the dating success on Zoosk and their better features gives it the winning title.