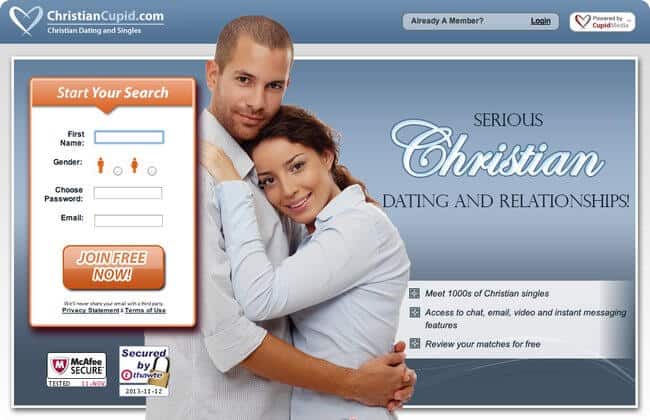 Are you looking for a great Christian Cupid Review? Did you know that you just came to the right place because I will be giving you insights on what it's like to join Christian Cupid.
Some Christian singles are quite hesitant to try joining online dating sites. The reason behind this is because they think that it will ruin their values. But the truth is, there are Christian Dating sites that are made specifically for them. These sites will help you, so you don't have to worry about anything at all. One of these sites is Christian Cupid. Get to know the site by reading the information provided for you below.
Christian Cupid Review
Christian Cupid is a Christian dating site whose focus is to help Christian men and women find connections among like-minded individuals. By browsing through the personals, you will be able to meet new and interesting people who are also devoted Christians.  Whether you are just looking for a friendly chat or a penpal, or matchmaking for a long term relationship and love, Christian Cupid will help you meet Christian singles.
Christian Cupid is operated under the Cupid Media network, which manages more than 30 respectable niche dating sites. They are committed to connecting Christian singles around the world under one platform. It is a safe and convenient to help you meet your Christian love match.
Why Choose Christian Cupid
Christian Cupid tries to be ahead of other dating sites by offering a variety of worldwide users, but the site still does not have the size or special features to make it stand out. It comes with the typical features offered by other online dating sites. Some of the features are being able to browse member profiles, searching for a match, and communicating with other users. However, Christian Cupid is not offering anything special to separate it from other dating sites. The member population is not that big compared to others who are market leaders in the dating site industry. Although you can't expect a wide range of match results, if you are looking for an online dating experience beyond the usual offered by others, Christian Cupid is limited but still worth considering.
Other Reasons To Choose Christian Café
Diverse, International User Community — Christian Cupid does not limit itself and accepts users from different countries with different denominations and faiths.
Multi-Language Support — Christian Cupid puts effort into making profiles and messages available in languages other than English, thanks to its international member base. 
Numerous Payment Options — Christian Cupid offers a variety of payment methods and takes payments through credit and debit cards, bank, PayPal transfers, checks, and even validated vouchers.
Signing Up On Christian Cupid
Like many of its online dating competitors, signing up for Christian Cupid is free. This free sign account is very limited. You can only create your user profile, send a wink chosen from a set selection to a member you are interested in. You can also receive messages sent by paid subscribers. That's it. You will have to cope with ads and will not be able to send messages to other users directly.
If you are interested in having options more than the free sign up account offers, you will need to get a paid plan for which you'll get two choices: Platinum or Gold. Gold membership will give you access to the site's core communication features, which is an adequate option by itself. Also, you will be able to receive and send direct messages and emails, and engage in online live chat via instant messaging. Lastly, you will be able to disable ads that distract you and clutter your view of the site.
Creating Your Profile
Upon creating your profile, you will be able to specify if you are signing up for dating and romance only or marriage. Christian Cupid also has preferences other online dating sites offer, such as viewing member's profiles, chat and IM, mobile options, and the block function. You will also see how recently each profile has been active; a feature everyone wants to see.
Features On Christian Cafe
Christian Cupid prides itself as a community with a diverse and international base. This means that the site is open to various denominations, ethnicities and nationalities, and even faiths. But due to the site's preference, there aren't a lot of numbers compared to millions of members signed up at other online dating sites. The limited number provides to a relatively shorter match list. The list will be the one contributing to possible matches becoming to repetitive or constricted.
Christian Cupid allows you to indicate on your profile your level of faith and church involvement. This will let other members see if your spiritual beliefs and practices are well-matched. You will also be able to indicate what kind of relationship you are interested in. It's worth mentioning that users should be wary because there are vague answers like a person's marital status available. This indicates that married people are allowed to search the site for matches, so better be aware of what potential matches put in the profiles.
Communication On Christian Cupid
Christian Cupid offers simple communication tools wherein you can correspond with other users using direct messages. You can also use instant messaging function to have a live conversation with someone. Sending a wink to another user is also a way of expressing interest in them. These options, though, are only available to paying subscribers. You will also need to get the higher-tier subscription if you want to avail of further options. Some of the options are getting notification when your messages have been read. Christian Cupid also makes it very convenient for mobile users because they also have a mobile app available. Android users can now use the mobile app to access their accounts. Unfortunately, iOS users still need to wait until the mobile app for iOS has been developed.
Search and Matching

 
Christian Cupid's  Matches" and instant "Recommended Matches" functions are derived from data gathered from the match preferences you filled out. These data serve as a guide for the automated search system to find the best match for you. You can change your preference anytime and is very useful if you want to get a different result the next time you use the search function.
You are also given a choice of using the manual search feature. By using a customized search, you will be able to find profiles that are unique to your requirements. Regularly used searches can also be saved for your next visit. Also, when searching for user profiles, you will be given a choice from different denominations. From this selection, you will find a number of choices under "Christian."
Membership On Christian Cupid
Platinum membership is the most expensive subscription tier in Christian Cupid. Being a Platinum member gives you more edge because of added features offered to its members. You will always be first on all search results, and your profile will be on top of search results to give it more visibility. Advanced matching and search features allow you to filter the searches better to fit your conditions and requirements better. For non-English speaking members, Christian Cupid has a function to view profiles and deliver messages in a language of your choice.
Profiles On Christian Cupid
Through their profiles, you will be able to see their dedication to their religious values and choose a match who is "religious," "very religious," or "not religious." You will be able to see the frequency someone attends the services, whether they attend daily, weekly, monthly, on holidays, rarely, or never.
Cost Of Membership On Christian Cupid
Christian Cupid's membership is at par with other online dating sites. Like other sites, they charge a one-month membership fee of around $ 25.00. If you plan to use the site for a long time, it is advisable to subscribe to a longer period coverage. If you commit to a one year plan, for example, the price will be under $ 100.00.
Customer Service Support
The FAQ section of Christian Cupid is very comprehensive, In fact, it will probably answer most questions of users. Although it is a little tedious to find the FAQ section since it is not easily accessible from the site's homepage. Direct customer assistance is also available by filing a request through the online contact form. This is the only available means to get in touch with them since their contact details are not available on their Contact page.
Security and Privacy
Christian Cupid allows you to control the visibility of your profiles and your uploaded photos. You can use the block function to block on users you don't want to have contact with, Also, you can you can also use the Report button to alert the site administrators of any untoward behavior committed by any user.
Feedback Of Members On Christian Cupid
My Name is Isabel From Cali Colombia, and my husband is Robert From Newnan Georgia USA. We know in July 2006 in ChristianCupid. And June of 2007 we get married. Now we are blessing for the Lord and ChristianCupid. Thanks, yours for your help. – Robert and Isabel

Hi Christian Cupid, Thank you for allowing me the platform to search for a life partner. Through my commitment to my special lady, I have decided to switch off my profile and concentrate on knowing her better, spending my time on our courtship as that is what she believes in. We have not met in person as yet, but through our communication, I truly believe that she is the one for me. I will send pictures and update as soon as our relationship is taken to the next level. Once again thank you and God Bless you all. – Jacob, 32
These are all the information that you will get from this Christian Cupid review. Find your match now by signing up!