A lot of people love Caribbeans because of the happy nature and beautiful faces. Plus, the Caribbean is a beautiful country where westerners love to retire. This is also the reasons why more people are looking for Caribbean women to love or even build a friendship with. One of the best Caribbean dating sites today is Caribbean Cupid. Not only because they are full of Caribbean women but also because they cater to foreign members as well. Get to know more about this site by reading the information below.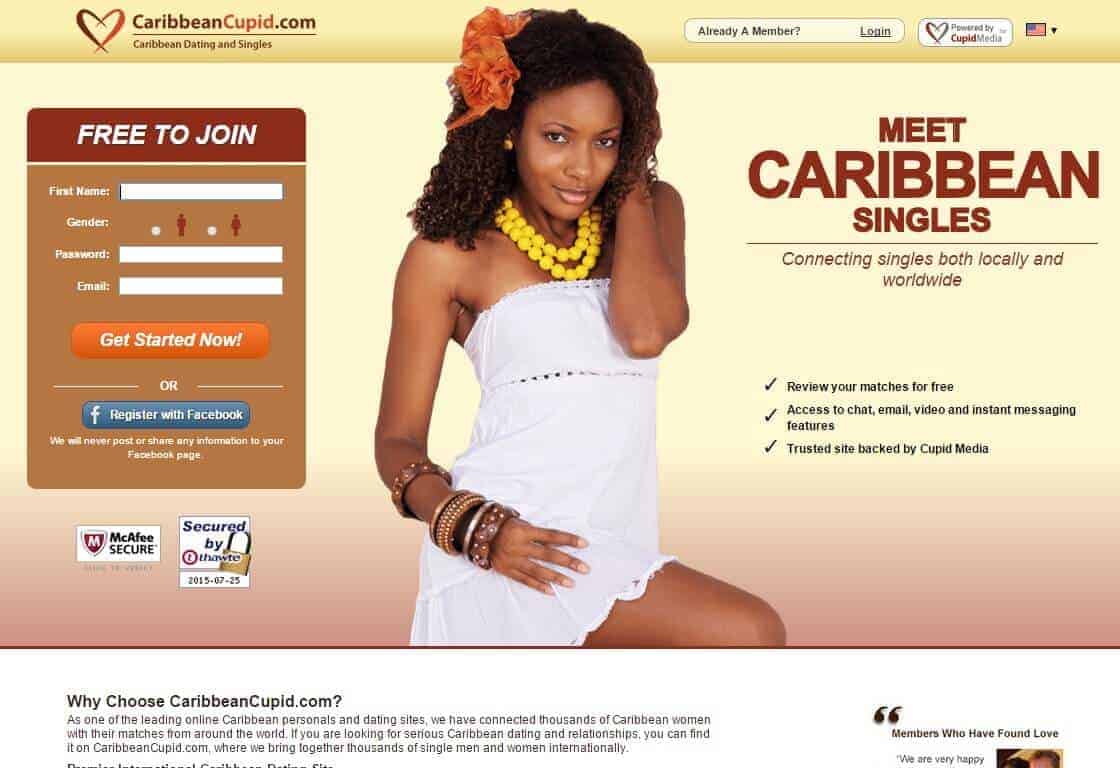 Caribbean Dating
Caribbean Dating site is part of Cupid Media, which is known to operate the best dating sites today. Their commitment is to make sure that the singles all over the world will be able to get to know each other. Majority of the members at Caribbean Dating are from Barbados, Dominican Republic, Cuba, Jamaica, and other Caribbean countries. Whether you are looking for a friend or a relationship, Caribbean dating site will surely be here for you.
Why Choose Caribbean Cupid
One of the many reasons why you should choose Caribbean Cupid is that there are a lot of members who are looking for the same thing as you. Some are looking for friendship, dates, long-term relationship, and even marriage. This means that no matter what kind of relationship you are looking for, you will find it here.
Another good thing about joining Caribbean Cupid is that 200,000 members here come from the USA. There are new members per month and based on the data; there are 55,000 new members every single month.
Of course, to ensure that you'll find a Caribbean woman, Caribbean Cupid made sure that all the profiles there are complete. They made sure that the profiles are complete so everyone can get to know each other. All of the necessary information that you need will already be in their profiles.
Sign Up Process
When it comes to the sign-up process, you can choose to sign up using Facebook. But this also means that your Facebook will be linked to Caribbean Cupid. So if you don't want that, you can always use your email. You will have to key in some of your necessary information, including your email, password, gender, age, and as well as your country. You can always edit the information later if you think that you wrote something wrong.
Also, you can verify your profile by completing the verification process while you're doing your profile. This will help make sure that you are someone who is real. A verified profile will attract more people because they will trust you. Of course, you will also get to see the verified ones so you can avoid getting fooled.
Amazing Features On Caribbean Cupid
Verified Accounts
As mentioned above, verified accounts are just one of the features on Caribbean Cupid. You can request for this by uploading a specific identification document on the site. You can also email your documents to the site so they can verify your information. Once you're verified, there will be a green badge on your profile, which will let other people know that you are someone that can be trusted.
Cupid Tags
Another useful feature is the Cupid Tags. These tags can be used to describe yourself and can be used to help other members find you. For instance, if a member is searching using a particular word from your description, your profile will appear on the search result. You can also do the same when searching, for you to get the result that you want. It will also help you narrow down your searches.
App
Of course, having an app for Caribbean Cupid is a good thing. The reason behind this is because members can easily find a member using his Smartphone. This also means that you no longer need to be in front of the computer most of the time, because of the app. The app also has a very organized and simple interface, so you don't have to worry about anything. The Caribbean Cupid app can be downloaded for both iOS and Android users.
Overall, Caribbean Cupid is certainly the best Caribbean dating site on the internet today because of the amazing features that are mentioned above. Start signing up and don't forget to verify your profile.