In today's fast-paced digital age, the quest for love and connection has taken an intriguing twist with the emergence of online dating platforms. Amidst the multitude of options, one name that has raised eyebrows and piqued curiosity is "BookofSext." With a name that combines the allure of literature and the intrigue of intimacy, it's no wonder people are asking: Is BookofSext a scam or a legitimate dating site?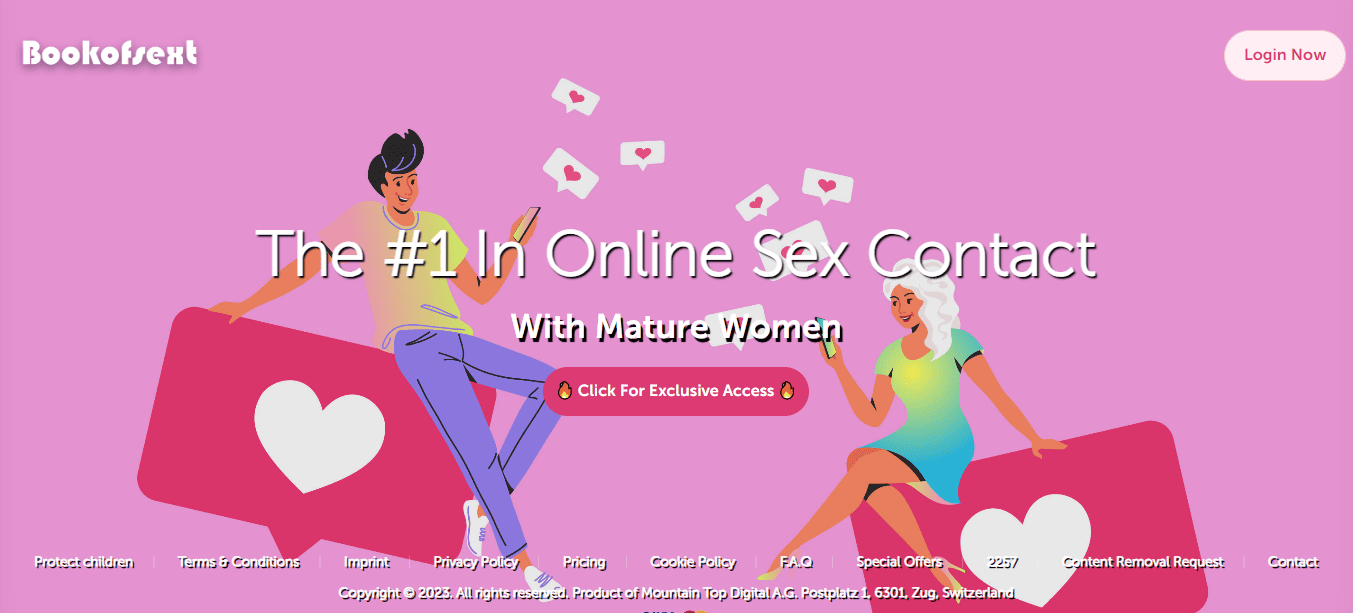 In this exploration, we embark on a journey through the virtual realms of romance, shedding light on the enigmatic BookofSext, its reputation, and the experiences of those who have ventured into its alluring world. Buckle up, dear reader, as we navigate the murky waters of online dating to uncover the truth about this captivating platform.
Check Out Our Recommended Alternative Sites below:
What is BookofSext?
BookofSext claims to be an online platform dedicated to helping individuals from various sexual orientations explore their sexuality in a safe and discreet environment. According to its marketing, it was created to help people of all genders, orientations, and ages find information about sexual desires, learn new techniques, and discover what makes them feel good.
The website does make it clear, however, that "if you are underage and you do enter, you may be violating local, state, federal, or international law."
The website features a section called "Scope And Some Important Points. In that section, it reads, "If you are under 18 years old and the age of majority where you reside, unfortunately, you can't use the Website yet because it's a meeting place for adults only.
We are not responsible for anything that you post or say while you are on the Website, and we cannot monitor all of the content of the Website, but it we do see, or someone tells us that you have posted something that we think is inappropriate, we may remove it."
It goes on to say, "We do not conduct criminal background screening of our users." They insist that they are "not in the firing line" if lawyers become necessary because of something that is posted on their site. And they even admit, "We use fictitious profiles to stimulate interaction and conversations among users like stated in our disclaimer."
In that disclaimer, it reads, "The service profiles are fictional, physical arrangements with these profiles are not possible!"
Before even entering the website, a potential user could get the feeling that it is worded in a way that could attract minors who are looking to "find information about sex, learn new techniques, and discover what makes them feel good."
While it does give a weak warning about being old enough to enter, the website makes it clear that they don't prohibit sex offenders, don't do background checks, and aren't responsible for what happens on their site. At least, that was the first impression given.
They also openly admit that the profiles you will be interacting with are mostly fake. You really don't have much of a chance of finding anyone of age through this site who could be a potential hookup or date.
---
Pros And Cons Of BookofSext
While this site seems to be off to a rocky start, we are going to try to remain objective. For that reason, we will list the pros and cons of the BookofSext Dating Site.
10 "Pros" Of BookofSext
1. Wide user base: BookofSext dating site boasts a large and diverse user base, increasing your chances of finding a compatible match. Of course, this is quite possibly made up of the fictitious profiles that they admit using.
2. Easy to use: The site is user-friendly and intuitive, making it easy for even the least tech-savvy individuals to navigate and use.
3. Advanced search filters: With BookofSext, you can refine your search criteria with personal details to find someone who meets your specific preferences for sexual fantasies, saving you time and effort.
4. Privacy and security: The site claims that it prioritizes the privacy and security of its users, ensuring that your personal information, credit cards, etc. remains protected.
5. Variety of communication options: BookofSext offers various communication options and special features, including messaging, private chats, video chats, profile pictures, and private photo sharing, allowing you to connect with potential matches in a way that suits you.
6. Real-time notifications: Stay up to date with new messages, profile views, and matches through real-time notifications, ensuring you never miss an opportunity to connect.
7. Mobile-friendly: The site is optimized for mobile use, allowing you to access and use it on the go, making it convenient and accessible wherever you are.
8. Verified profiles: BookofSext claims that it verifies profiles to ensure that you are interacting with real people, reducing the chances of encountering fake or fraudulent accounts. (This pro is a bit confusing since they admit freely that they use fake profiles to encourage interactions.)
9. Supportive community: The site fosters a supportive and inclusive community where individuals from any sexual orientation can explore their desires and connect with like-minded individuals without judgment.
10. Affordable membership options: BookofSext offers affordable membership options, allowing you to access premium features and enhance your online dating experience without breaking the bank.
*NOTE! Those were the pros, according to marketing from the website and a few positive reviews we found on Reddit and other social media sites. When attempting to open most dating sites, our Malware program blocks the site with serious warnings for malware and riskware. Because of this, our research is often done via reviews from customers and scam alerts.***
10 Cons Of BookofSext Dating Site
Those were the pros of BookofSext dating site, according to its marketing and some review sites. Bear in mind that many dating review sites are actually marketing writers who are paid to market the site instead of sharing the truth. Here are some of the cons that we found about BookofSext.
1. Lack of Privacy: One of the major downsides of BookofSext dating site is the lack of privacy. Users may find it difficult to maintain their anonymity, as the site requires personal information during the registration process.
2. Fake Profiles: Another drawback of BookofSext is the presence of fake profiles. Some users may create fictitious accounts to deceive others, leading to disappointment and wasted time for genuine users.
3. Limited Features: Users have reported that the features on BookofSext are quite limited compared to other dating sites. This can make it difficult to find suitable matches or interact with other users effectively.
4. High Cost: While they boast of being cheap, BookofSext is known for its high subscription fees compared to other dating platforms for the actual content available. This can be a significant drawback for those on a tight budget or looking for more affordable options.
5. Lack of Verification: Unlike some other dating sites, and despite their claims to the contrary, BookofSext does not have a strict verification process. This can lead to a higher risk of encountering scammers or individuals with malicious intent.
6. Inconsistent User Base: Users have reported that the user base on BookofSext can be inconsistent, with a limited number of active users. This can make it challenging to find potential matches, especially in smaller or less populated areas.
7. Limited Search Options: BookofSext's search options for actual dating are often criticized for being limited and not providing enough search parameters to narrow down preferences. This can result in users spending more time scrolling through profiles that may not be a good fit for those looking for real women.
8. Lack of Customer Support: Customer support on BookofSext has been reported to be slow and unresponsive. This can be frustrating for users who have questions or encounter technical issues and need customer service.
9. Inappropriate Content: Some users have expressed concerns about the presence of explicit or inappropriate content on BookofSext. This can create an uncomfortable experience for those seeking genuine connections or looking for a more wholesome dating experience.
10. Negative Reputation: BookofSext has gained a negative reputation in some circles due to its association with casual and explicit encounters. This may deter individuals looking for more serious or long-term relationships from using the platform.
---
Is BookofSext A Scam?
After reading all of these cons, you might get the impression that the entire website is a complete scam. With BookofSext, that could be true.
The problem with that assessment for all dating sites is that most of these issues are found in almost every site on the net, even those designed for casual dating. Even legit casual dating sites have their flaws.
So, it isn't true that every dating site is a scam, and not all of them are just for sex dating. Many people successfully use online dating sites and platforms to find real love. With that in mind, we have created a list of some of our favorite alternative dating sites to BookofSext.
---
Ten Best Alternative Dating Sites To BookofSext
1. Plenty Of Fish
Plenty Of Fish is a dating site that offers an online matching service. It boasts a large user base and has features such as instant messaging and profile search. It can be used for finding erotic partners or as a way to find more than just a sex partner.
2. AdultFriendFinder
AdultFriendFinder is another top alternative dating site that focuses on casual hookups and adult entertainment. It has a large user base of millions of users, a powerful user interface, lots of user activity, and offers various features to help you find compatible partners.
3. Ashley Madison
Ashley Madison gained popularity for its unique approach to dating, targeting individuals who are married or in committed relationships but seeking discreet affairs. It provides a secure and anonymous platform for those looking to explore extramarital encounters.
4. Feeld
Feeld is a dating app that caters to individuals who identify as non-monogamous or open-minded. It allows you to connect with other like-minded individuals or couples looking for unique relationship dynamics or sexual encounters.
5. OkCupid
While OkCupid is not specifically an alternative dating site, it offers a range of features that appeal to those seeking non-traditional relationships. Its inclusive environment and various options make it a great platform for exploring different types of connections and erotic stories.
6. FetLife
FetLife is an online community for individuals interested in kink, BDSM, and fetish lifestyles. It provides a space to connect with like-minded people, explore fantasies, and join discussions on various topics, erotic desires, sex advice, and other forms of adult-based dating.
7. Grindr
Grindr is a popular dating app designed for gay, bisexual, and queer individuals. It focuses on connecting users for casual encounters, hookups, or even long-term relationships within the LGBTQ+ community.
8. Her
Her is a dating app specifically designed for lesbian, bisexual, and queer women. It offers a safe and inclusive space for these individuals to connect, chat, and explore potential relationships.
9. Bicupid
Bicupid is a dating site tailored for bisexual and bi-curious individuals. It aims to provide a welcoming environment for people looking to explore their sexuality and meet others who share similar interests.
10. Raya
Raya is an exclusive dating app that targets creative professionals, celebrities, and influencers. It provides a platform for individuals in the entertainment industry to connect and potentially start meaningful relationships.
Remember to always prioritize your safety and communicate your desires and boundaries clearly when using alternative dating sites.
---
Conclusion
BookofSext has gained a negative reputation due to its association with casual and explicit encounters, which may not be ideal for individuals looking for serious or long-term relationships.
It boasts of being catered to those who may not know enough about sex to be equipped to deal in an online platform, especially when that platform admits that it doesn't run background checks or adequately monitor itself. This could make it a potential target for those who are underage and a playground for predators.
However, there are many alternative adult dating sites that offer a variety of features and can cater to different types of connections for real dating. We highly suggest Adult Friend Finder to seek your perfect match, if that's the type of experience that you are looking for.