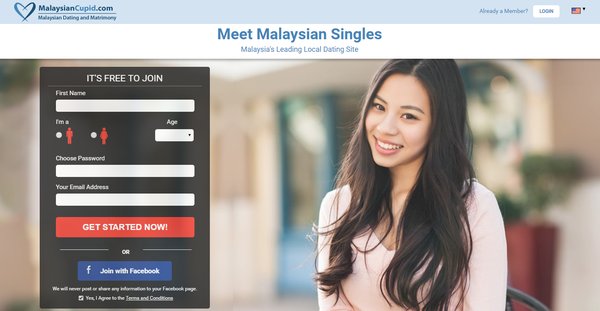 Contrary to common misconception, this niche dating site has numerous active users all yearning for friendship, love and companionship. Although this is one of the smaller sites that addresses Asians, it is nonetheless one of the most populated. Anyone who has ever interacted with Malaysian women knows that they are raised in an extremely conservative environment. For this reason they are not susceptible or open to being approached in public. They also prefer subtlety and being coated first before romance is even mentioned. If you are looking for a Malaysian for friendship, love or companionship; here is a detailed review…
See Our #1 Best Rated Asian Dating Site
Better Alternatives to Malaysian Cupid
There are much better alternatives than Malaysian Cupid. These alternative sites have better protection against scammers, a larger group of members to match with, and better features. See our recommendations below and try them out:
---
Malaysian Cupid Review
This is niche dating site that specifically features Malaysian women looking for love, romance and even long term companionship. It has a large portfolio of women ranging from young girls to middle aged women looking for love and romance. It is arguably one of the largest dating sites featuring Malaysian women. Since there are a lot of women in this site, you can be sure that you will get someone who appeals to you or suits the criteria that you are looking for.
Is Malaysian Cupid Free?
Like most other dating sites joining is completely free. In the case of Malaysian cupid, while simply joining is absolutely free, you are not allowed to use most of the features when using the free version. For instance, with the free version you can search and actually get matches. However, to communicate with the matches you must pay.
So what does this mean? Technically this site is free but functionality requires payment. Most former and current users advise first getting some viable matches before you choose to upgrade to the premium version. The lowest paid membership deal which is called the premium version is a great choice. You actually get most of the features except a video profile which requires the platinum package. The free package will only help you get the matches to actually talk to the matches you must make a payment.
See Our #1 Best Rated Asian Dating Site
Sign Up Process
Signing up to join Malaysian Cupid is pretty easy. All it entails is to build a profile with your information to help create a profile that your possible matches will see. The personal details needed to create your profile include basics about your appearance such as hair color, height, ethnicity and eye color. You may also choose to share some other personal details such as occupation, personal likes and hobbies.
You can also include the type of relationship that you are seeking. This is important so you attract people with the same interests. The last thing that anyone needs is to attract people looking for casual flings when they are looking for a committed relationship. Once these detailed are filled, you can now come up with a headline that will attract what you are seeking.
The headline is simply a short and attractive description of yourself so you can get attention from plausible candidates. What is particularly impressive about Malaysian Cupid is their detailed criteria section. It allows users to choose a specific factor they want in a potential match. This ranges from physical traits to religion and even nationality.
Does it Malaysian Cupid Really Work?
Yes, absolutely this website works whether you are looking just for a fling or a long-term relationship that can lead to lifelong commitment. Perhaps the reason it works is because most Malaysian women are extremely conservative and those who go online are serious about making a connection. You can be sure that most of the girls on this dating site are sincere about wanting to make a connection with someone special whether it is just for friendship or romance.
What options are available for users?
The best thing about this dating site is its versatility. It has something for everyone. Whether you are looking for a serious relationship or casual fling; you can get it here. Additionally it is also sexually progressive; whether you are gay, straight or lesbian; you can get matches on Malaysian Cupid.
There is also the option of the type of relationship that you are looking for. This includes pen pals, marriage, casual flings or just friendship. You can freely change what you are looking for depending on preference. According to former users, pen-pals and friendships is a great way to start because these lead to lasting relationships since there is no pressure and matches actually get to know each other first. Additionally, it is also to start because most Malaysians are raised in a conservative environment. You don't want to come on too strong and scare them off.
How user-friendly is this site?
It has a simple design with no learning curve. Everything is clearly laid out and explained in detail. You are guided every step of the sign up process. It is extremely easy to navigate and the loading speeds are pretty impressive. Unlike some sites that are quite challenging there aren't so many confusing buttons or tabs. For instance, the sign up page is straight forward and pretty much self explanatory for anyone who can read and comprehend Basic English or Malaysian dialects. Additionally, Malaysian cupid features language translation services which can come in handy. The major drawback is that it does not support all languages so this might alienate people from some countries.
Is it Legit or is it Scam?
What makes Malaysian cupid stand out from the crowd is the fact that it comes with the 'verified badge' feature. This significantly reduces the chances of encountering fake users who are after other intentions other than love and romance. What is important to keep in mind is that while the site itself is not a scam, there is always the possibility of encountering users who are scammers. These are pretty easy to identify. Most typically have perfect profiles and model-esque type photographs of pristine quality. If it is too good to be true then it probably is a lie.
Additionally, scammers also tend to be extremely aggressive when it comes to what they will do for or with you. For instance after one conversation someone can say they want to marry you. This is certainly a negative sign to watch out for. If you feel uncomfortable or like you are being tricked or being take advantage of then just bark off and look for another match.
Pros
The profiles are verified which boosts the chances of not encountering scammers. Most people who have used Malaysian Cupid testify to how users respond fast after being contacted.
Malaysian cupid has more members as compared to other sites that are meant to serve this demographic
Cons
The site sometimes has technical issues which can hopefully be resolved through routine maintenance
This site has a simple design that still gets the job done
Final verdict
There are many Asian based dating sites. Malaysia Cupid.com stands out from the crowd because there are so many success stories that have emerged from it. Many have gone on to establish long term successful relationship. If you are looking to hook up with someone of Malaysian decent this viable option to try out. The love your life might just be a click away!